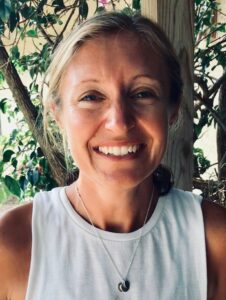 Allie Whitelaw, a resident of Wellington, Florida, has been running consistently since 2006. As of May 2019, she has run 16 marathons (PR: 3:11, Miami Marathon, January 2019) along with numerous half-marathons and shorter races. Notably, she has succeeded in the challenge of running through a pregnancy, logging an injury-free marathon 16 weeks after giving birth to her son Colton in 2016. She has logged several years of running high mileage, also injury-free, having worked up to consistent 60- to 100-mile training weeks.
Allie's running career is the epitome of steady progress fueled by a relentless work ethic. Her first marathon, in 2012, was a 4:18, and she has steadily carved over an hour from that maiden voyage. Her most notable competitive achievements to date are her overall win at the Palm Beaches Half-Marathon in December 2018 and her 1:24:58 at the Singer Island Half-Marathon in April 2019. She is currently training to break 3:00 at Grandma's Marathon in Minnesota in June. She has had coaches along the way and also been self-coached at times, and currently works with a friend who supervises workouts for her local running club. She clearly carries an unusual level of passion for the sport. 
Having spent the past dozen years focused on her own running, Allie is prepared to help others achieve their goals. She has written plans for friends, family members, and herself at times, and has learned a lot about what it takes to increase distances, build fitness, and achieve goals. She is in the process of completing a Legacy Running Coach certification online. 
Allie graduated magna cum laude with Bachelor of Science degrees in western equestrian studies and equine business management from the University of Findlay in Ohio in 2009. As a business owner and operator along with her husband in the equestrian industry (horse training and sales), Allie handles the daily care and training of the horses as well as all the administrative duties for the business; of necessity, she is detail-oriented, organized, and disciplined.
Lowell Running first came to her attention thanks to Coach Matt Chittim's Rambling Runner Podcast. "Listening to Matt's conversation with one of his athletes about a 10-mile race he had coming up was really motivating for me," she relates. "I have wanted to get into coaching for a long time, but never felt like I had done enough to be able to coach others outside of friends and family. But listening to that episode made me realize I have a lot to share, and I will learn a lot more and gain more experience by helping others reach their goals."
Running Experience
13 years
Certification
Legacy Running Coach

Education
University of Findlay
Marathon Best
3:11
Highlights
Winner of Palm Beaches Half Marathon  
Improved from 4:18 to 3:11 Marathon 
Click to Book Coaching by Allie Whitelaw
About Lowell Running, LLC – Established in 2016 by Olympian Ruben Sança, Lowell Running Company, LLC ( " LRC " ) is comprised of a group of experienced coaches providing easily accessible, affordable and high quality training programs to individuals and groups specializing in road races. We use long established training methods coupled with data driven analytics from a variety of platforms to help our athletes achieve their goals. We are committed to understanding our athletes' needs and providing goal-oriented training advice leading to life-long sustainable running. Lowell Running uses multidimensional training programs to bring the best out of each athlete. Our athletes are successful because we maximize our efforts in utilizing athlete focused, coach driven and science based approaches to training. Our dedicated coaches offer superior customer service and aim to create the most positive training environment for each athlete.