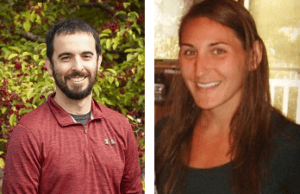 Daniel Selsky and Lindsey Funch have joined the Lowell Running coaching staff 
Tuesday, July 2, 2019
Daniel Selsky (Concord, MA) and Lindsey Funch (Eugene, OR) are the newest members of the Lowell Running Co., LLC coaching staff.
Daniel Selsky is one of the most passionate coaches in our profession. In his 10 years of coaching, he has gained experience at the youth, middle-school, high-school, college and post-collegiate levels. He is a longtime runner himself, having taken up the activity and finishing high school with times of 1:58 for 800 meters and 4:28 for 1600 meters. He then went on to compete collegiately at Florida International University, where he also later coached.
Coach Selsky also has experience coaching privately. He has coached middle-school-age students, where he has focused on general endurance and general speed. In addition to that, he has coached multiple adults who were preparing to compete in half-marathons and full marathons. Daniel started his coaching career in Miami, Florida at Doral Academy. During his tenure he helped guide the both the boys' team and the girls' team to their respective cross-country state championships for the first time in school history. He also qualified a number of boys and girls to the track and field state championships in the mile and two-mile events.
Lindsey Funch, who resides in the historic running town of Eugene, Oregon, is a former sprinter and middle-distance runner specializing in the 400 and 800 meters as well as a collegiate field-hockey player at St. Lawrence University in Upstate New York. In 2010, Lindsey decided to turn her attention to long-distance running, and has never looked back. Lindsey has worked consistently to coach herself from a marathon personal best of 3:52 to a 3:08 while lowering her half-marathon time from 1:47 to 1:28. Along the way, she earned a master's degree in exercise science at SUNY-Cortland, also in New York and the longtime home of noted exercise physiologist, author and coach Jack Daniels, Ph.D.
Lindsey has coached many first-time marathoners to event finishes, and has also guided several runners to Boston qualifying times. In pursuit of servicing her athletes to the best of her ability, she recently attended the RRCA Level 1 course and completed that certification. In seeking to extend her services beyond the reach of local West coast runners, Lindsey brings a great deal of fresh perspective to the Lowell Running mix and is excited to help an expanded cohort of runners reach their goals.
To book Daniel or Lindsey as a Monthly Online Coach, click here.
About Lowell Running, LLC – Established in 2016 by Olympian Ruben Sança, Lowell Running Company, LLC ( " LRC " ) is comprised of a group of experienced coaches providing easily accessible, affordable and high quality training programs to individuals and groups specializing in road races. We use long established training methods coupled with data driven analytics from a variety of platforms to help our athletes achieve their goals. We are committed to understanding our athletes' needs and providing goal-oriented training advice leading to life-long sustainable running. Lowell Running uses multidimensional training programs to bring the best out of each athlete. Our athletes are successful because we maximize our efforts in utilizing athlete focused, coach driven and science based approaches to training. Our dedicated coaches offer superior customer service and aim to create the most positive training environment for each athlete.