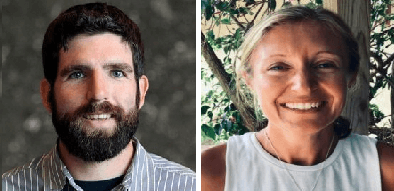 Lowell Running adds two new coaches to staff: Fran Cusick and Allie Whitelaw
Thursday, May 16, 2019
Lowell Running Co., LLC has added Fran Cusick (Tewksbury, MA) and Allie Whitelaw (Wellington, FL) as the 6th and 7th members of its coaching staff.
Fran Cusick is a USATF Level 1 certified track and field coach as well as a USTFCCCA strength and conditioning coach, and has a wealth of experience on the roads and the track. He currently works as a cross-country and track coach at Tewksbury Memorial High School in Massachusetts. He is also the director of the Stowe Running Camp, a highly successful and popular running camp held every summer in Stowe, Vermont. His coaching philosophy centers around patience and long-term aerobic development. His coaching influences include Jack Daniels, Arthur Lydiard, and Steve Magness. While Lowell Running is his first foray into coaching adult runners, his experience and expertise as a high-school and college coach combined with his success on the roads as a post-collegiate athlete give him a unique viewpoint from which to approach training.
Over the past five years, Coach Cusick has helped turn the Tewksbury girls' team into one of the most successful programs in the New England region. The girls' outdoor track team won the 2016 Massachusetts State Championship – the first All-State Championship in the history of the school. In 2017, the girls finished second, and Coach Cusick was named 2017 Boston Globe Coach of the Year. In cross-country, the Tewksbury girls were the State runner-ups and finished as the ninth-best team in the Northeast Region.
Allie Whitelaw, a certified Legacy Running Coach, has been running consistently since 2006. As of May 2019, she has run 16 marathons (PR: 3:11, Miami Marathon, January 2019) along with numerous half-marathons and shorter races. Notably, she has succeeded in the challenge of running through a pregnancy, logging an injury-free marathon 16 weeks after giving birth to her son Colton in 2016. She has logged several years of running high mileage, also injury-free, having worked up to consistent 60- to 100-mile training weeks.
Allie's running career is the epitome of steady progress fueled by a relentless work ethic. Her first marathon, in 2012, was a 4:18, and she has steadily carved over an hour from that maiden voyage. Her most notable competitive achievements to date are her overall win at the Palm Beaches Half-Marathon in December 2018 and her 1:24:58 at the Singer Island Half-Marathon in April 2019. She is currently training to break 3:00 at Grandma's Marathon in Minnesota in June.
To book Fran or Allie as a Monthly Online Coach, click here.
About Lowell Running, LLC – Established in 2016 by Olympian Ruben Sança, Lowell Running Company, LLC ( " LRC " ) is comprised of a group of experienced coaches providing easily accessible, affordable and high quality training programs to individuals and groups specializing in road races. We use long established training methods coupled with data driven analytics from a variety of platforms to help our athletes achieve their goals. We are committed to understanding our athletes' needs and providing goal-oriented training advice leading to life-long sustainable running. Lowell Running uses multidimensional training programs to bring the best out of each athlete. Our athletes are successful because we maximize our efforts in utilizing athlete focused, coach driven and science based approaches to training. Our dedicated coaches offer superior customer service and aim to create the most positive training environment for each athlete.