_________________________________________________________________________
"Cool down miles" is published by Wendy Jepson for LowellRunning.com and supported by Megaton Coffee

– March 6, 2019 –
Many athletes I interview took up running for similar reasons – either they started in high school and kept with it, or they started later in life due to a health scare.  Noreen Waddell started running for much more pragmatic reasons.  It was 1987 and she was a junior at Salem State University with no car.  If she wanted to get to the gym, she had to run there.
Fast forward to today, and Noreen is still running in the Northshore area of Massachusetts.  A native of Newburyport, she tries to run in the Yankee Homecoming 10 Miler every year.  The race is an annual tradition held the Tuesday evening during Yankee Homecoming week, during the last few days of July and first few of August, in the city.  It's a scenic course, running along the ocean before winding through a state park and local neighborhoods.  It's one of those local races that is so organized, well-executed and long standing it's made a larger name for itself.
Another local race that you may have heard of that Noreen has participated in is the Boston Marathon.  Boston was her first marathon in 2016 at the age of 50 and she considers it her most memorable run so far.  Because of her roots in Massachusetts, it felt like a rite of passage to run that race.  It was such an incredible experience, taking in the energy and excitement of the crowds as well as her fellow runners. 
Noreen is now training for her second Boston Marathon this coming April, which brought her to Lowell Running.  She would see us at various races, and a few of her friends knew our founder and coach Ruben Sanca and spoke highly of him.  In fact, there is a crew of six runners from the area that have all signed up for marathon training plans and have dubbed themselves 'Team Ruben Newburyport'!  They have a lot of fun training and supporting each other during long runs, workouts, and in life. Noreen feels very fortunate to have met this amazing group of women and for Ruben's support.  In fact, he met the team at the Wellesley hills portion of the Boston course during a 15 mile run.  He was out there encouraging them and taking pictures (although she had to make sure to have extra good running form when running by Coach!).
The amazing thing about running groups, and Noreen's is no exception, is how the energy and support spills into other areas of life.  Training for a marathon is like having a part time job. You live and breathe running for months and it's important for athletes to help each other strike a balance with the other areas in life.  Noreen is currently receiving coaching for a career in voice overs. She has been pursuing this for a few years with a coach in LA over the phone. She is enjoying the process and hopes to start getting out there soon and having her voice heard.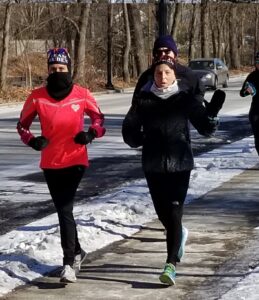 She also volunteers for Sweet Paws Rescue in Groveland, MA as one of six volunteer cat coordinators. She loves to save lives, one dog and cat at a time!  Noreen loves animals so much, she became vegan roughly seven years ago.  Her mother is from Wyoming originally and her grandparents had a small farm there that she often visited.  She loved all the animals and remembers struggling back then with eating her friends.  While she hadn't eaten red meat since she was a kid, she didn't find it difficult to give up dairy and poultry when she made the decision to change her diet.  She has recently started eating scallops, shrimp and salmon for training but internally she is struggling with this.  One of the common experiences of being a runner is finding ways to strike a balance between what we need as runners and the other areas in our lives that are important to us.  As Noreen can attest, it's a tricky line to walk at times.
Her advice to a new runner is to just have fun and enjoy the ride (run).  You will meet so many great people in the running community – lace up, get out there, and enjoy the outside.  She also says you will know you're a runner when the first question you ask your doctor is 'When can I run again?'
Noreen, thanks for sharing your story with us!  We can't wait to cheer you on as you cross the finish line on Boylston Street in April.
Rapid Fire Questions for Noreen:
Favorite running app?
Final Surge
Gatorade or water?
Water
Go-to sports brand?
Asics
Number of lost toe nails?
1
---
"Cool down miles " is published by Wendy Jepson to highlight hardworking Lowell Running athletes in and outside of running.
_________
Supported by Megaton Coffee

• All natural coffee with twice the caffeine to help you chase that PR •
20% discount code: "Lowell20"
www.megatoncoffee.com