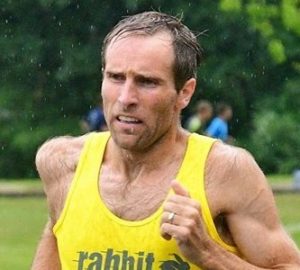 Nate Jenkins, who placed seventh at the 2008 Olympic Marathon Trials with a time of 2:14:56, is a native of Templeton, Mass., a small town on the far western outskirts of the Boston metropolitan area. He has spent his whole life in Massachusetts, graduating from Narragansett Junior-Senior High School and then obtaining his bachelor's and master's degrees at the University of Massachusetts at Lowell. He now teaches middle-school math in Methuen, just down the Merrimack River from Lowell.
As much as the phrase "blue-collar runner" may be overused, it would be difficult or impossible to find a marathoner who has extracted more from his modest natural ability than Nate, whose career is a study in methodical perseverance. Years ago, in his early 20s, Nate began seeking out the best available wisdom about becoming a world-class runner and the results have been not only impressive performances but the accumulation of a formidable reservoir of knowledge.
When he started seventh grade in the early 1990s, Nate was already something of an experienced runner, with a competitive streak that had led him to take the elementary-school gym-class mile run seriously (though he stresses that he never won it). He began running cross-country as a seventh-grader, and within a year was a year-around competitive runner. By the end of eighth grade, Nate had recorded modest times of 5:18 and 11:20 for the mile and two-mile.
Nate's progress through high school, which he attributes in large part to a terrific team environment, was steady but unremarkable; he was already experimenting with 100-mile training weeks by the time he graduated in 1999. His times of 4:32 for the mile, 9:47 for the two-mile and 15:58 for a cross-country 5K were impressive but unremarkable in the talent-laden Bay State. After being plagued by injuries throughout most of college at then-division 2 U. Mass.-Lowell, Nate enjoyed a glimmer of his future potential when he won a major regional cross-country meet in his graduate-school year, in the fall of 2003. From there, he endeavored to tackle the marathon, and ran a phenomenal 2:15:28 in Texas in his debut in 2006.
Over the years, Nate has also run 4:13 for the mile, 8:08 for 3,000 meters, 13:56 for 5,000 meters, 29:32 for 10K on the road, and a 1:04:14 half-marathon. Yes, an unassuming kid with a fastest 400 meters of 58.8 seconds ran in the 2009 World Championship Marathon for the United States.
As a teacher by profession and inclination, Nate is eager to convey what he has learned. As his popular blog underscores, he is honest about triumphs and his mistakes alike, and the  process of learning and refining is clearly as important to him as "running fast" or suggesting that a single hard-core approach is the idea path to marathon success. Recognized throughout New England for his combination of toughness an affable nature, Nate is unquestionably a very valuable addition to the Lowell Running staff.
Running Experience
25 years
Education
UMass Lowell
Marathon Best
2:14
Highlights
7th at US Olympic Marathon Trials (2007)
Coach Nate Jenkins
Nate Jenkins (@NateJruns) took me from a 2:39 to a 2:27 and (@BlueBenadum) from roughly 2:35 to 2:23! Will truly show you what hard work in running looks like! 
– Scott W.  (2 hr 27 min Marathoner – Los Angeles, CA)
Click to Book Coaching by Nate Jenkins!