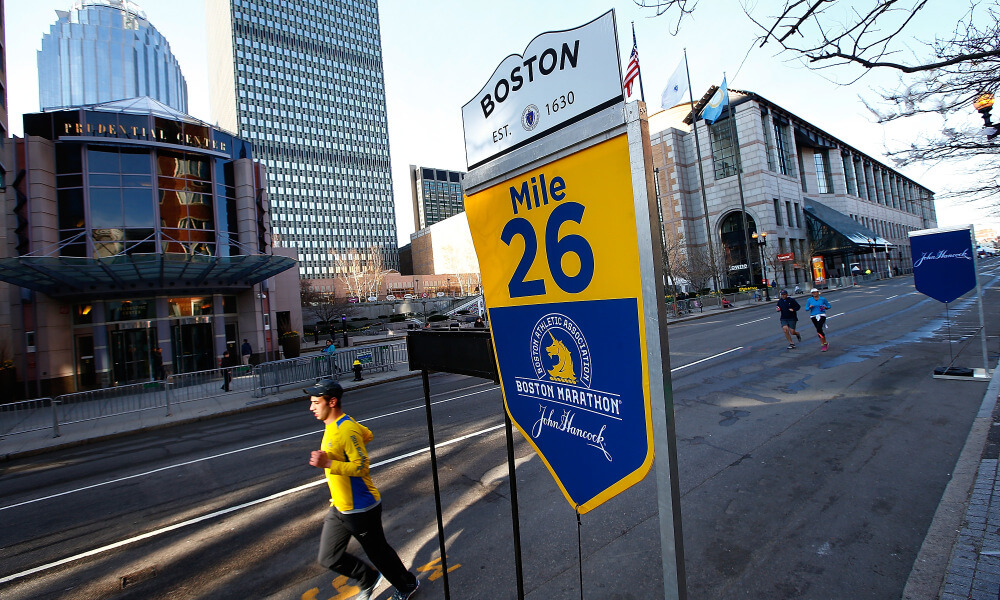 Boston: A Unique Race
by Kevin Beck for LowellRunning.com
Like any runner who was born and raised in the general Boston metro area and took up running as a kid, I developed a strong attachment to the Boston Marathon starting at a young age. And like most people who have had continual contact with the event over a period of decades, I have a complex and sometimes deeply emotional relationship to this race. It stands as the host of my own best marathon effort (2001) as well as the locus of a serious and mostly unavoidable letdown in what turned out to be my last meaningful attempt to reach the Olympic Trials (2003).
I became familiar with the race at around age 10, years before I started running myself, because local TV stations always dedicated loads of coverage to the event not just during and afterward but for days before. (I grew up in southern New Hampshire, but almost all of the stations we got were Boston-based.) I could appreciate that it was a "big deal," and a recall bits and pieces about the battles between local hero Bill Rodgers and Toshihiko Seko of Japan, between American lioness Patti Catalano and New Zealand's Allison Roe, and between Rosie Ruiz and, well, honesty.
I skipped school with my friend John in 1988, my senior year, to watch the race in person for the first time; we somehow managed to see the start and the finish, which was helped by the fact that there were "only" six or seven thousand runners in the field in those days. But it was not until I first spend time outside of New England that I realized how much renown the race is afforded worldwide, and that the pomp and circumstance I was exposed to on the local channels was anything but a local, regional, or even American phenomenon.
In the next two weeks, I will offer specific pointers concerning how to prepare for Boston's unique logistical challenges, handle the course itself, and plan general marathon strategy from two weeks out. For now, if you like, feel free to listen to an interview Brian McWilliams of New Hampshire Public Radio did with me a few days before the 2003 version of the race, when I was hoping to take a stab at the then-Olympic Trials qualifying standard of 2:22:00. (I probably had as good a shot at this as I ever would, but the day proved very warm and I packed it in at around 12K. This was a difficult but probably wise decision; Amazingly, only one American man broke 2:30:00 that year if you toss out Eddy Hellebuyck's 2:17, a time he later confessed was EPO-aided.)
Photo by
Jared Wickerham for Getty Images